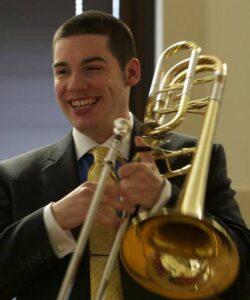 Mr. Kyle Amati is the Director of Bands at Shorewood High School, where he conducts the Shorewood High School Wind Ensemble, Symphonic Winds, Jazz Ensemble, Pep Band, and Drumline. He also teaches Music Theory. His primary instrument is the Bass Trombone.
Previous to his time at Shorewood, Mr. Amati has taught middle school music/band in Milwaukee Public Schools, High School Band at Mendota High School, Mendota IL, and 7th-12th grade band at Beckman Catholic High School, Dyersville IA. 
Mr. Amati performs in several community ensembles including the Suburban Concert Band (West Allis), UWM Community Band, and Occonomowoc American Legion Band.
Mr. Amati holds a Bachelors of Arts in Music Education with a minor in Jazz Studies from Augustana College, Rock Island IL, as well as a Masters of Music in Wind Conducting from the University of Wisconsin-Milwaukee where he acted at a graduate teaching assistant in the conducting program as well as band office manager. His teachers include Dr. John Climer (UWM), Dr. James Lambrecht (Augustana College), Mark Hoelscher (UWM), Dr. Samantha Keehn (Augustana College), and Dr. Jemmie Robertson (Augustana College).
Outside of education, Mr. Amati enjoys video games and photography. 
Email: kamati@shorewood.k12.wi.us