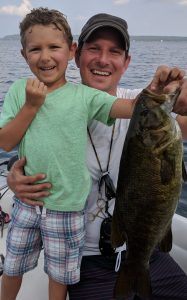 Mr. Olson is one of three band directors in the School District of Shorewood, a north-shore suburb of Milwaukee, where he conducts the Shorewood Intermediate Cadet Band, Concert (7th grade) Band, Symphonic (8th grade) Band, and Jazz and Pep Bands.  He also has experience as the director of the high school Concert Band (grades 9-11).  In addition, Mr. Olson is the director of the Shorewood Summer Music Program, which includes a beginning 5th grade lesson program, concert band (grades 5-9), and jazz band.
As the former principal trumpet of the Gaudete Brass Quintet, based out of Chicago, IL, Mr. Olson has performed professionally with this group for over 4 years while touring nationally.  With this group, he has provided invigorating educational concerts and clinics to students at hundreds of schools throughout the country from elementary schools to universities and was highly involved in successfully recruiting students as artist-in-residence at Carthage College.
Additionally, Mr Olson has also performed classically on trumpet with several professional symphonies including the Milwaukee Symphony Orchestra, Milwaukee Ballet Orchestra, Fox Valley Symphony, Skylight Opera, Bel Canto Chorus of Milwaukee, Wisconsin Chamber Orchestra, and Wisconsin Philharmonic.  He has also performed on trumpet as a member of several professional jazz and Latin groups including Punta de Vista Latin Orchestra, Isla Adentro, Mr. Lucky Swing Sindicate, and Swing Nouveau.
Coaching tennis for several schools and organizations has given Mr. Olson another opportunity to work with a wide variety of students.  He has coached a diverse population of students in Milwaukee, WI including the United Community Center, Nicolet High School, and has held the position of head coach for the Shorewood Boys Varsity Tennis Team for the past three years.
Mr. Olson holds a bachelor's degree in both instrumental music education and music performance (trumpet) from the University of Wisconsin-Milwaukee.  He attended Roosevelt University (Chicago College of Performing Arts) in downtown Chicago, IL while working toward his master's in music, where he studied trumpet performance from Mark Ridenour, assistand principal trumpet of the Chicago Symphony Orchestra.  Mr. Olson was a graduate teaching assistant in the trumpet studio as he earned his master's in music from University of Wisconsin-Milwaukee.