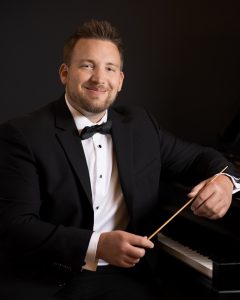 Bryan Kujawa is the Director of Bands at Shorewood High School where he conducts the Wind Ensemble, Symphonic Winds, Jazz Band, Pep Band, and Drumline. In addition, he co-teaches the Cadet Band and leads sectional lessons to 8th grade band students at Shorewood Intermediate School.
He earned his Master's degree in Music Education from the Vandercook College of Music, where he played first horn in the graduate symphonic band, and piano in the graduate jazz band. Mr. Kujawa earned his Bachelor of Music Education from the University of Wisconsin – Eau Claire. Prior to Shorewood, Mr. Kujawa served as Director of Bands & Music K-12 in Gilman, WI.
Mr. Kujawa plays french horn with Milwaukee's Knightwind Ensemble. He has also performed with the Kettle Moraine Symphony, Chippewa Valley Symphony, & Eau Claire Chamber Orchestra. His professional affiliations include the National Band Association, National Association for Music Education, and Wisconsin Music Educators Association.
Email: bkujawa@shorewood.k12.wi.us